Crave Sports Company Presents...
THE WORLD SERIES MVP INSCRIPTION TOUR!
This tour we are doing a series of Private/Public Signings with World Series MVP's! Each of the signings we offer the World Series baseballs to have the MVP sign the year they were MVP! What an amazing collection!! We are completing the year 1978 to now. Why 1978? Well, because that was the year Rawlings printed the first World Series logo on a baseball!
If you have missed out on these signings, we have some extra inventory to purchase below!
We have completed the following signings to date:
1980 Mike Schmidt
1981 Pedro Guerrero
1983 Rick Dempsey
1984 Alan Trammell
1985 Bret Saberhagen
1987 Frank Viola
1988 Orel Hershiser
1989 Dave Stewart
1990 Jose Rijo
1991 Jack Morris
1993 Paul Molitor
1995 Tom Glavine
1996 John Wetteland
1997 Livan Hernandez
1999 Mariano Rivera
2001 Randy Johnson & Curt Schilling
2005 Jermaine Dye
2007 Mike Lowell
2010 Edgar Renteria
2012 Pablo Sandoval
2015 Salvador Perez (Order Now)
2018 Steve Pearce
When a new signing is announced, we will pre-sell the World Series baseballs for you to order. Any of the extra baseballs we had signed would be listed below if still available.
Crave Sports Company offers first class memorabilia, we will sell you nothing but the best quality merchandise. You can feel confident what you receive is a great item to add to your personal collection.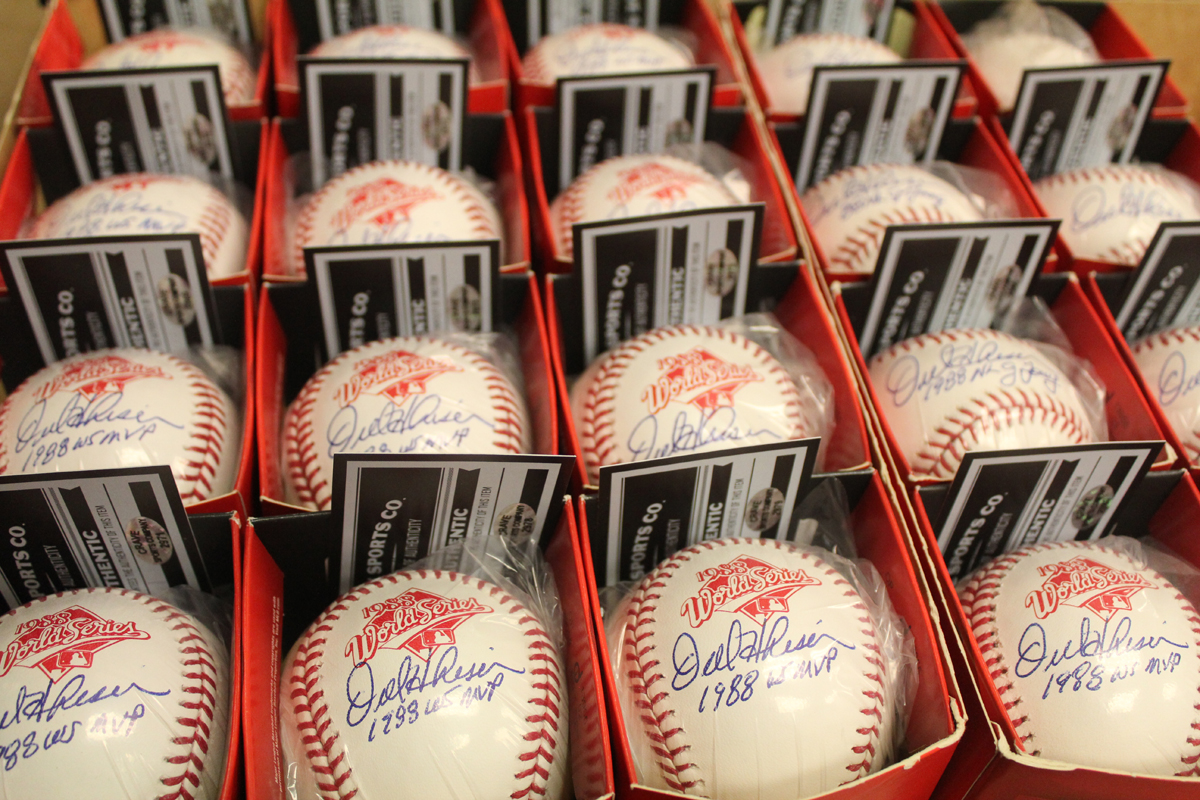 Extra Items from Past World Series MVP Signings
2018 World Series MVP
STEVE PEARCE
2012 World Series MVP
PABLO SANDOVAL
1997 World Series MVP
LIVAN HERNANDEZ
Livan Hernandez Autographed 1997 WS MVP Inscribed Baseballs
Livan Hernandez autographed baseballs from our private signing. Select from a 1997 World Series Baseball or an Official Major League Baseball with his inscription, "MVP 1997 WS" - Amazing items and a beautiful signature.
$110 - 1997 World Series Baseball w/ inscription
$89 - OMLB w/ inscription
Pricing includes the autograph, baseball, certificate of authenticity AND free shipping!
1985 World Series MVP
BRET SABERHAGEN
1987 World Series MVP
FRANK VIOLA
1984 World Series MVP
ALAN TRAMMELL
1991 World Series MVP
JACK MORRIS
Jack Morris OMLB w/ 1991 World Series MVP Inscription
Jack Morris autographed Official Major League Baseball. This ball also comes with his 1991 World Series MVP Inscription. Jack pitched a 10-inning shutout game vs. the Braves in Game 7, 1991 World Series!
Signed by Jack on May 25th, 2017, these are 100% authentic and guaranteed with our crave hologram.
Pricing includes the autograph, baseball, certificate of authenticity AND free shipping!
1983 World Series MVP
RICK DEMPSEY
1990 World Series MVP
JOSE RIJO
2005 World Series MVP
JERMAINE DYE
Jermaine Dye Autographed 2005 WS Baseball w/ MVP Inscription
2005 World Series Baseball signed by the MVP Jermaine Dye. These rare baseballs come inscribed with 05 WS MVP and under the WS Logo.
These were signed for us by Jermaine at a private signing for us in Chicago, March 2018.
Pricing includes the autograph, baseball, a certificate of authenticity (JSA & Crave) AND free shipping!
2010 World Series MVP
EDGAR RENTERIA
2005 World Series MVP
JERMAINE DYE